Translated from Uriasposten; original text below the fold. The picture was originally published in Den Korte Avis[The Short Newspaper]:
Regardless of how Danes vote in the coming parliamentary election, it will still be necessary to place heavily armed policemen in front of obvious targets for Islamic terror like Jewish institutions. "The Denmark you know" is changed forever and if I am still blogging when my children have children, pictures like this [from either link above] will mean nothing. It is the new normal. New generations of Danes will never understand what they lost.
We live in the world's best country – it shall be preserved. But the world is changing. And we must not stand still. I will continue my work for the Denmark you know.

Helle Thorning-Schmidt in an election video, 2015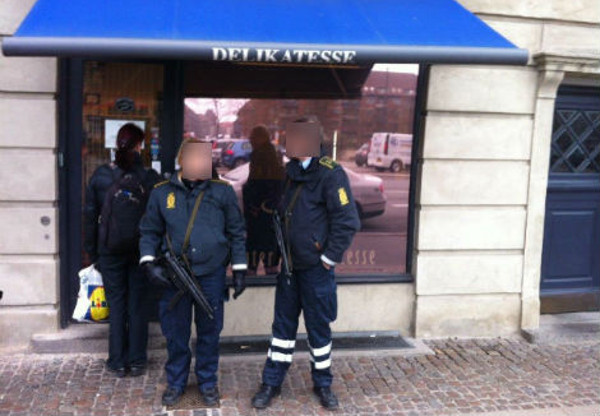 Policemen with machine guns in front of a Kosher delicatessen… that was not the Denmark I knew.
Update [20150409]: from Uriasposten again…
Copenhagen: vandalism at a Kosher deli [not the same as the one above] – window smashed, "Jew Pig" written on the wall
There can't be that many kosher-businesses in Denmark, but it is apparently necessary with 24 hour protection to secure them. Pictures of the vandalism can be seen at "Berlinkske Tidende": Jewish business a victim of vandalism: Broken window and "Jew Pig" on the wall [the rest of the post is untranslated].
Update [20150413}: I was wrong, according to Den Korte Avis, the vandalism mentioned in the Update above *did*, in fact, occur at the same deli. No translation of article needed; the usual comments: shame it happened and the police are investigating.

Uanset hvad danskerne stemmer ved de kommende folketingsvalg, så vil det stadig være nødvendigt med kampklare betjente foran oplagte mål for islamisk terror, herunder jødiske institutioner. 'Det Danmark du kender' er forandret for altid, og hvis jeg stadig blogger når mine børn får børn vil det slet ikke give mening at bringe et foto som dette. Det er det nye normale. Nye generationer af danskere vil aldrig forstå hvad de har mistet.
"Vi bor i verdens bedste land – det skal vi bevare. Men verden forandrer sig. Og vi må ikke stå stille. Jeg arbejder videre for det Danmark, du kender." (Helle Thornings-Schmidt i valgvideo, 2015)
Update [20150409]:
København: Hærværk mod Kosher Delikatesse, Lyngbyvej – Rude smadret, 'jødesvin' skrevet på facade
Der findes næppe mange kosher-forretninger i Danmark, men det kræver tilsyneladende døgnbemanding at sikre dem. Billeder af hærværket kan ses på Berlingske – Jødisk forretning udsat for hærværk: Knust rude og 'jødesvin' på muren.